VAM® Field Service
Boost your efficiency and reduce costs with VAM® Field Service
Our teams of highly trained technicians based around the world are available to help you verify and deploy your connections. Using VFS experts reduces costs, improves operational efficiency and inventory control throughout the lifecycle of your pipes and connections.
Reduced costs
Avoid non-productive time and guarantee rig operation efficiencies
Faster operations
Best practices ensure operations run smoothly and efficiently
Peace of mind
Operators can rest easy knowing skilled technicians can handle all challenges
A large services portfolio
Our 180 highly-skilled technicians based in 17 service centers worldwide ensure that VAM® quality is maintained from the mill to the well, with a range of services that cover the full lifecycle of your pipes.
Rig site services
     • Running supervision
     • Deck inspection
Loading/off-loading supervision

Thread inspections – rig-ready and rig return

Sub-assembly makeup & repair
     • Supervision of assembly make up
     • Calibration checks
     • Make up process qualification
     • Workshop audits
     • Pressure test fixtures rentals
     • Pipe repairs coordination
Pipeyard management
     •Digital stockyard management
     • Collaborative planning
     • QHSE best practices
     • Yard design and audits
VAM

®

 Licensees


     •

Quality control and Licensor Technical Representative for VAM

®

VAM

®

 Field Service Quality Management System
VAM® Field Service is working on the implementation of API Q2 in all our service centers globally.
VAM

® 

Academy
The VAM® Field Service Academy, unique in the industry, trains and assesses engineers.
Services
Services From Mill To Well
VAM

®

 Field Service on the rig site
Our expert technicians work on your rig to ensure that the right products are used at running to protect the integrity of your well. With extensive training and experience, they can verify the condition of the products, validate all the make-up parameters and conditions, create conclusive make-up graphs and decide when a connection should be backed out, accepted or laid down. Thanks to their expertise, you can greatly reduce back out and reject rates, helping ensure your well is safe and the connection performance is optimal.
Embedded VAM

®

 technician support
Embedded in your team, a VAM® technician is on-site to ensure things run smoothly. From supervising, reporting and trouble-shooting operations in real time to proving answers to day-to-day questions, having a VAM® technician can help avoid costly mistakes, improve the efficiency of your operations and lower your costs.
Bucking unit qualification and calibration
VFS technicians visit your completion workshop to verify the make-up process meets VAM® requirements for tolerances and processes. They train, assess and test personnel and calibrate the make-up machine to VAM® standards (TSLI 440) with a customized frequency using calibration bars. They also verify the accuracy of the machine's torque measurement. As an independent third-party, they can confirm the correct calibration of your machines so you can be certain your workshop meets VAM® standards.
VFS Licensor Technical Representative (LTR)
Licensor Technical Representatives (LTR) receive critical parts that are manufactured at VAM® licensee machine shop locations. They offer reliable, local repair and manufacturing of VAM® Connections, even in the most remote locations. Specially trained and highly qualified VAM® Specialists inspect the products to ensure they are fully compliant with VAM® standards. Get the assurance that your locally-manufactured product is VAM®-certified.
Low-torque soft seal pressure test fixture rentals
All VAM® Field Service centers offer rental pressure test fixtures that meet all safety standards. They hold the required test pressure and are truly low-torque. Durable and robust, they can withstand numerous make and breaks. Their design prevents the change of the deformation of the VAM® connection after the test, and they will not damage the connection at make-up or break-out. No transfer of seal galling from the test fixture to the product. Test the integrity of your connections and ensure your operation is efficient.
Make-up graph review
Our team of experts across all time zones offers remote assistance with your make-up graph profiles. They have the knowledge and experience to identify possible root causes of bad profiles and propose corrective actions.
A specific project? Need VAM® Field Service assistance? Let's talk about it!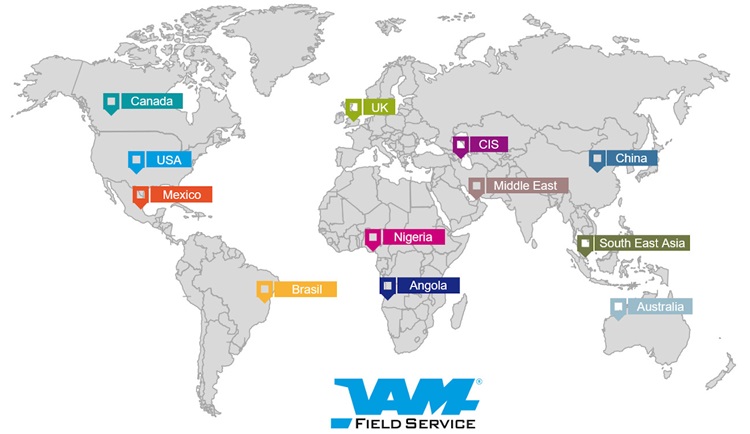 Documents
Documents & Resources
Running Guidelines Posters
To help you optimize our connections' running, we have developed dedicated posters summarizing running recommandations from our VAM® Field Service teams. To download them, please fill in the forms below.
How did VAM® Field Service assist in the running of the new VAM® SPRINT-SF connection?
Discover VAM® Field Service
Workshop Quality Assurance
"A VFS technician assisted a customer after sub-assembly pressure tests at a third-party workshop resulted in recurring leaks and damaged threads. He audited the workshop, performed the qualification of the horizontal make up unit, supervised the assembly make-up and replaced metal-to-metal TCP with low torque soft seal pressure test fixtures. The result: > zero leaks, > a reduction of costly and repetitive tests and > no need to recut damaged threads."
Troubleshooting On The Rig
"At a challenging tapered string running in the North Sea, a VFS technician helped avoid a costly mistake. When an XO reached the floor, having been mistaken for a VAM® HW-ST pipe, the technician stopped the running and pulled it out. Thanks to his quick action, > non-productive time was avoided and > over $4M saved thanks to no jump-outs."
Typical Added Value
"VFS technicians add value at every step of rig operations. With a VFS technician, you get faster running parameters, better decision-making based on best practices, repairs done on board, list checks and equipment marking done before RIH, accurate tally measurement and double-check done before the start of operations. Combined, these services > saved up to three days of rig time and > up to $600k in direct savings."
Avoid non-productive time
"Sometimes, all it takes is the right person in the right place at the right time. For a customer running with expensive material, one VAM® Field Service technician on the rig helped avoid a costly error. When the wrong pipe appeared on the rig floor, the VAM® Field Service technician stopped the running operation and put the pipe aside for the appropriate moment. As a result of this intervention, non-productive time was avoided."
Discover our Solutions
More information