TallyVision
Optimize Rig Operations Through Digitalization
TallyVision improves your pipe running operations thanks to the traceability of each pipe.
Discover TallyVision
This digital solution ensures that pipes and accessories are run according to the planned sequence and proposes the best updated sequence in case of need. It reduces non-productive rig time, eliminates human error, and offers rig crew valuable operational KPIs such as time versus depth.
Traceability & data
Unique pipe ID orValid: Unique identification number for each pipe
Barcoding: Marking all pipes, accessories and assemblies: VLR and Non VLR
Data collection: Barcoding can be executed in Vallourec mills or on external sites (yard, workshop, etc.)
Rig receipt management
With TallyVision, you can access and update pipe data on the deck:
Pipe scanning: Scan and access each pipe information and history
Access and update individual pipe data
Inspection & reject management
Pre-tally management
You can import or generate pre-tally list and modify it before and/or during the running operations. You have also the possibility to modify the order of a planned sequence, remove a planned pipe and/or add a contingency pipe in the planned sequence.
Running Supervision
Field app checks if the right pipe is used at the right position. In case of errors, watchdog alerts will be displayed on the tablet. Operator will accept or reject the pipe and comment to justify his decision. Meanwhile, the rig crew can access to drilling KPIs such as bore volume, steel displacement, cumulated length/depth calculation and ratio of targeted length.
Digital report & Analytics
Web portal access
Run-in-hole tally
Rejected pipes
Returned pipes
Operations KPIs
Optimize running operations
Real-time monitoring from anywhere
Track Record
Track Record
"Already 10,000+ pipes successfully run with Smartengo Running Expert."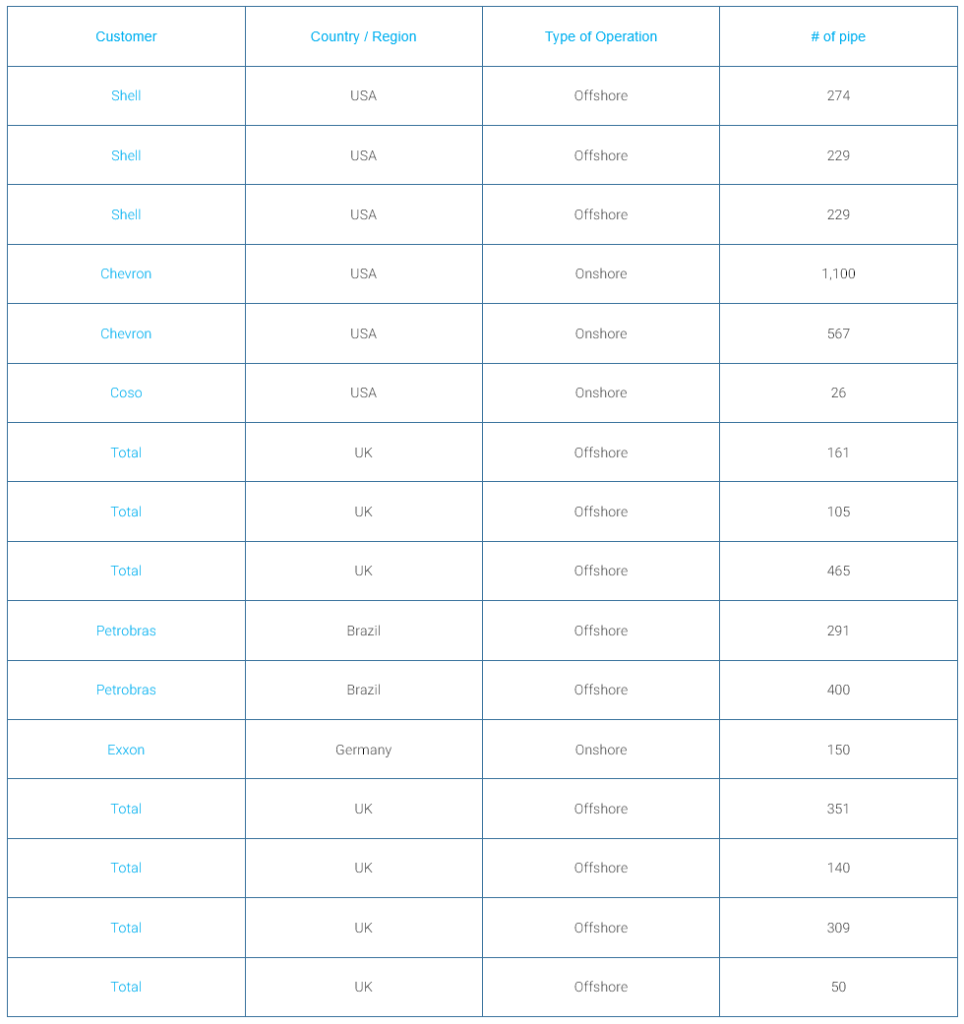 Resources
Documents & Resources
How did Smartengo assist in the running of the new VAM® SPRINT-SF connection?
North Sea
"One of the main advantages I see are before and after running – by creating a pipe management system on the rig, on the drill floor. It enables us to have leaner operations." (Day company man - HP/HT well)
North America
"I was skeptical at first but once you were able to demonstrate that we had control of pipe, their order, and could modify things ad hoc, I was impressed. In the end, we stopped using our hand-crossed method of tracking joints and used Running Expert instead." (Casing supervisor - Mid-continent shale operation)
Gulf of Mexico
"Your solution can clearly replace our old style paper solution and allows us to avoid mistakes especially on the run in hole tally" (1) "The proof of trip number by tube and reject analysis are warranties of our operations and very useful information for well string life" (2) ((1) Day company man - (2) Offshore drilling contractor - Workover risers project)
Save rig time
"Our running expertise saves our customers time and money. A customer struggling with pre-tally discrepancies contacted us. Thanks to Smartengo Running Expert, the customer had real-time access to pipe data and string KPIs. With access to reliable run-in-hole data, we helped save up to 12 hours of rig time and $112,000 in direct savings."
Discover our Solutions
More information