Corrosion Resistant Alloys (CRA)
The solution for long term integrity in severe corrosive environment.
The Corrosion Resistant Alloys are suitable for usage in environment combining presence of CO2, H2S and Chlorides with high temperatures. CRA are used for Tubing pipes, Liners as well as the wetted section of the Production Casing.
Bullet-proof corrosion resistance
Complete portfolio: Our extended portfolio of CRA grades covers all type of CRA applications from HPHT wells applications to extreme sour gas environment and injection wells.
Material Selection Support
With over 30 years of experience, our material and corrosion experts are available to support our customers to select the most reliable and cost effective solutions.
VAM® validated
VAM® Connections are the most used in severe corrosive environment with extensive connection test data and field track-record supported by Field Service specialists.
Performances
Performances & Applications
CRA tubulars are supplied thanks to our partnership with reliable and experienced CRA suppliers which allow us to offer a wide range of CRA pipe diameters from 2 3/8 up to 10 3/4″.
Duplex steel & Super Duplex Steel
VM 22, VM 25 and VM 25S grades 
Austenitic / Ferritic material with either 22 % CR or 25% CR content as per API 5CRA group 2 (Chemistry as per UNS S31803, UNS S31260, UNS S32750 or UNS S32760) 
Available in PSL 1 and PSL 2 upon request
Yield strength from 65 to 125 ksi
Austenitic and Nickel based alloys
VM 28 grades, VM 825 and VM G3 grades
Austenitic material with 28% CR content as per API 5CRA group 3 and group 4 chemistry as per UNS N08028 and UNS N08825
Available in PSL 1 and PSL2 upon request 
Yield strength from 110 to 125 ksi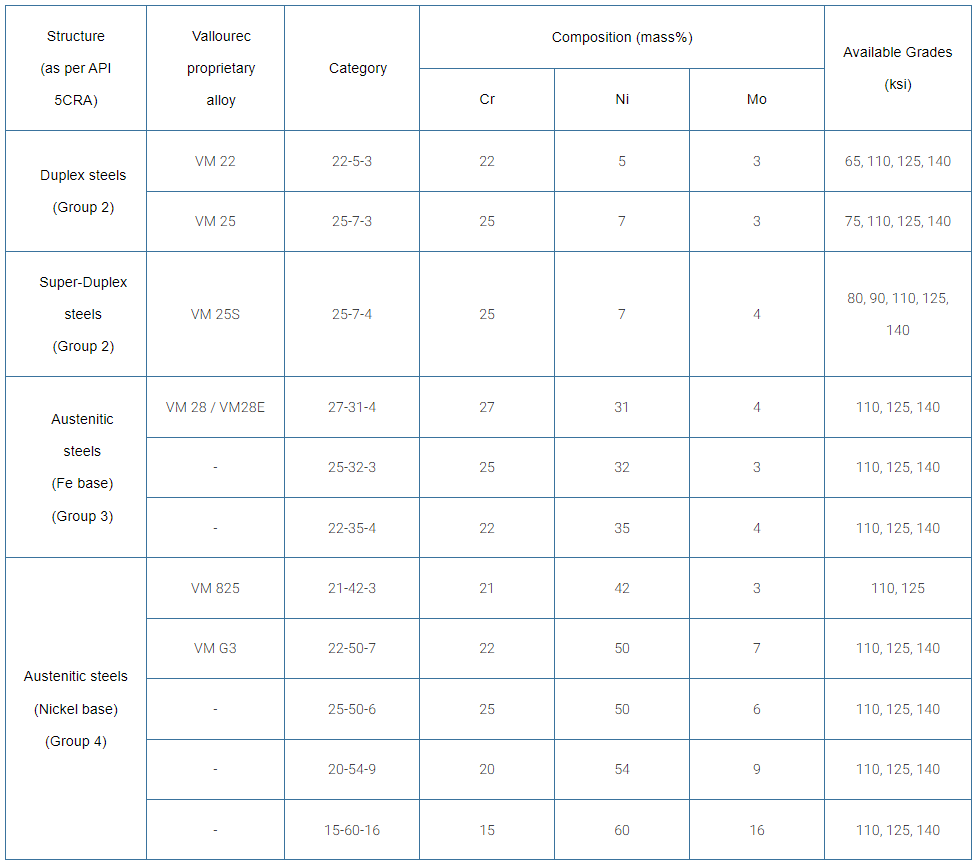 Resources
Documents & Resources
Vallourec e-learning
Interested in learning more about well design and material selection? Fill in this form to access the e-learning session. By filling in this form, you are sharing your information with Vallourec and acknowledge that you have read and agreed to the Data Privacy Policy (https://solutions.vallourec.com/en/Cookies).
Interested in learning more about well design and material selection? Fill in this form to access the e-learning session. By filling in this form, you are sharing your information with Vallourec and acknowledge that you have read and agreed to the Data Privacy Policy (https://solutions.vallourec.com/en/Cookies).
OCTG Expertise Center
Every application has specific service requirements to withstand internal and external pressure, high torque, temperature and corrosion. Vallourec offers the full range of material grades and connections to meet your needs. Our Expertise Center is the priviledged place to exchange with our experts.
Discover our Solutions
More information