Sour Service
A cost effective solution for All Sour Service (SS) environments
VAM® 21 and its compatible high torque version VAM® 21 HT are the latest generation of advanced premium T&C connections. As strong as the pipe and fully validated against API RP 5C5:2017 / ISO 13679:2019 CAL-IV across the entire product line, its innovative design has proven to be the extremely reliable on the field, whatever the application, even the most critical.
Best H2S Corrosion Resistance
Our proprietary carbon steel grades offer the highest H2S resistance for oil & gas fields with the lowest temperatures and highest constraints in sour environments.
Highest Proven Performance
Decades of know-how and process control backed-up by thousands of NACE method A & D test results.
Cost Effective
As an alternative to the more costly API C110 grade, our proprietary VM 110 MS grade generates cost savings for mild sour environments.
Performance
Performance, application & Product Range
Vallourec has developed a comprehensive offer of sour service grades for all applications
For mild sour conditions special grades (P110MS), fit-for-purpose such as unconventional wells.(especially designed for unconventional wells)
For conventional oil and gas wells under severe sour conditions (VM80SS, VM95SS, VM110SS)
For High Pressure/High Temperature wells and extreme sour conditions (VM125SS, VM110XS)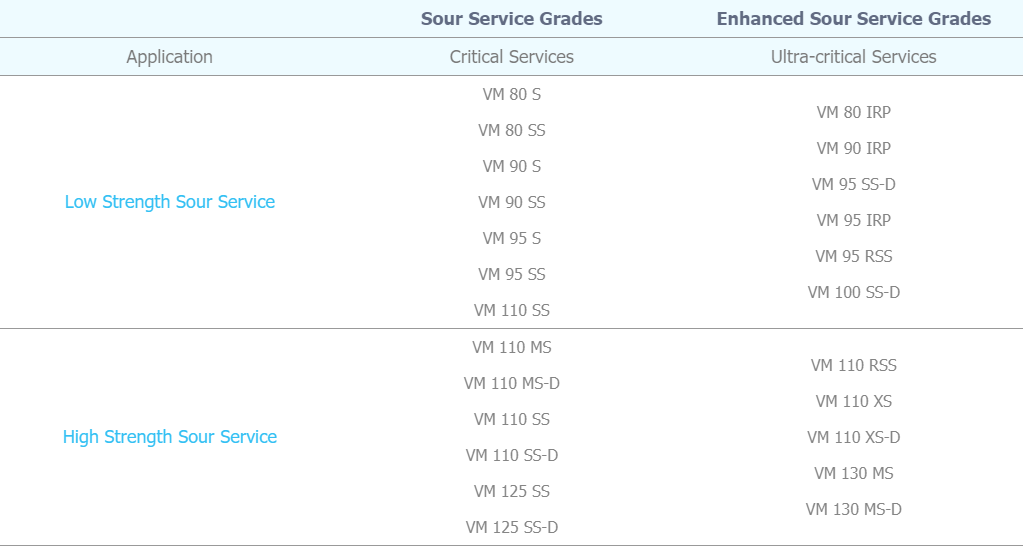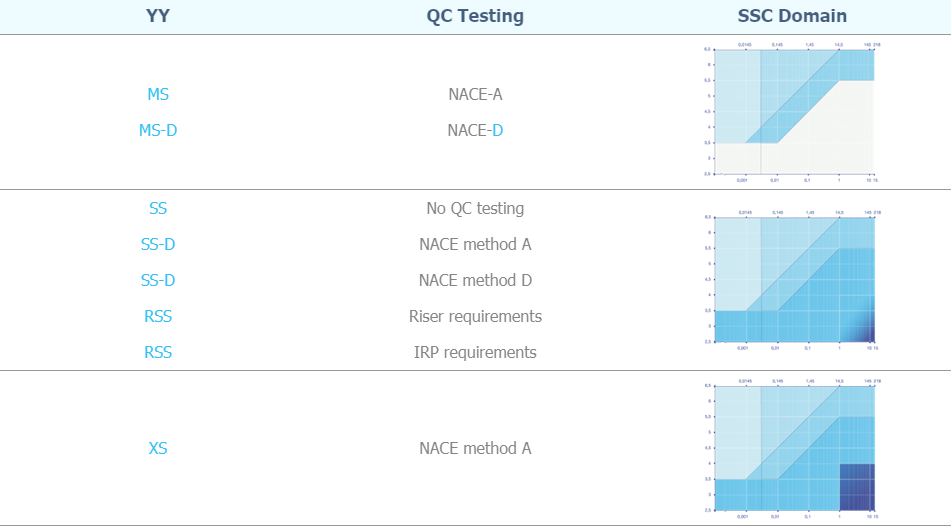 Resources
Documents & Resources
Vallourec e-learning: Well design & material selection
Interested in learning more about well design and material selection? Fill in this form to access the e-learning session. By filling in this form, you are sharing your information with Vallourec and acknowledge that you have read and agreed to the Data Privacy Policy (https://solutions.vallourec.com/en/Cookies).
Interested in learning more about well design and material selection? Fill in this form to access the e-learning session. By filling in this form, you are sharing your information with Vallourec and acknowledge that you have read and agreed to the Data Privacy Policy (https://solutions.vallourec.com/en/Cookies).
Webcast "The New Generation of Vallourec High-Strength Sour Service Grades"
Webcast "Engineered Tubular Solutions: Well design & Material Selection"
Webcast "Engineered Tubular Solutions: Sour Service"
More information
Discover our other solutions
Learn more
Customer Story
Learn more
Customer Story
Gulf of Mexico
New Vallourec VM130MS grade selected for 20K projects in the Gulf of Mexico Beacon has recently qualified our newly developed VM130MS grade for their 20K project of Shenandoah located in the deepwater U.S. Gulf of Mexico, off the coast of Louisiana. First feedback shows a clear interest for this high-strength carbon steel grade combined with sour service performance.
Brazil
"Pre-Salt has the critical combination for the Pipes: necessity of high Yield Strength due to the well depths and salt loads and H2S presence (corrosion), what leads to the usage of Sour Service metallurgies. The SS pipes are being used for almost all the Pre-Salt wells in Brazil and helping the customers to have a lighter string while keeping the high mechanical resistance." Brazil
Webcast Replay
On November 5, 2020, Jonathas Oliveira held a live webcast introducing the latest developments in our comprehensive tubular offer in high-strength sour service grades. It attracted more than 230 participants from the oil and gas industry. "As a tube's mechanical properties increase, it becomes more and more difficult to achieve enhanced sour service resistance. The latest metallurgical developments have enabled us to create a full range of sour service solutions suitable for all well conditions, and to propose powerful cost-effective solutions to overcome our clients' challenges" Jonathas Oliveira, Vallourec's Marketing and Development Coordinator for Oil Country Tubular Goods (OCTG) Grades