Amusement Rides
Aesthetics and performance
Theme park constructions need to adhere to the highest safety standards while offering innovative designs to attract thrill-seekers. Vallourec's Structural Hollow Sections and tubes are available in a wide range of dimensions and wall-thicknesses to adapt to every design. Their quality ensures your amusement rides are both safe and fun.
Design flexibility
A wide variety of diameters, wall thicknesses and lengths
Easy processing and welding
Homogenous and low residual stresses for cutting, beveling, welding
Certified grades for maximum safety
Standard grades with EN 20210 certification (or equivalent)
Applications
Applications
Tubes and hollow sections for amusement rides
Our steel tubes and hollow sections are suitable for all types of amusement ride applications, including girders and support structures. With more than a dozen rail-support systems manufactured and installed in the last three years , our experienced teams can help you find the products that meet your specifications. Steep drops, sharp turns, loops and sudden changes of directions: our products can make your designs a reality.
Modern roller coaster designs are calculated according to precise, customer-driven specifications, taking into account all the mechanical and technological characteristics of the construction materials used. Steel is the unrivaled material of choice in amusement ride construction.
Vallourec's hot-rolled Structural Hollow Sections products feature benefits that roller coaster designers are looking for, including robustness, excellent weldability, high buckling and fatigue resistance, and constant overall quality. Our tubes meet or exceed national and international standards.
Strong enough to withstand the high G-forces that come along with heavy trains and steep descents, our products come together to provide ultimate thrills and ultimate safety.
Working closely with you, our teams can help you optimize your amusement ride designs for a breathtaking yet cost-effective solution.
MSH Technical advantages
High load bearing capacity
Tight corner radii for rectangular and square hollow sections
Good weldability
Aesthetic and design appeal
Problem-free corrosion and fire protection –
EN 10210 standard (or national/international equivalent)
Available in a vast range of dimensions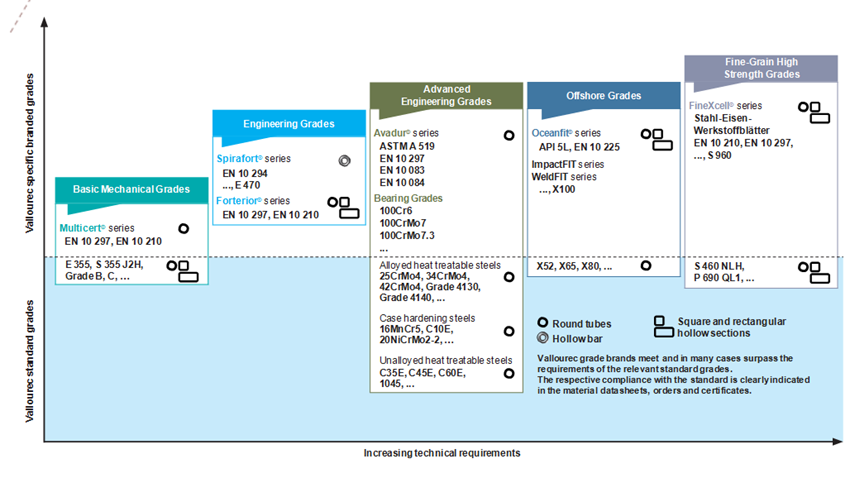 Resources
Documents and Resources
"Vallourec is an accredited supplier for Mack Rides, maker of amusement rides around the world. According to Mack Rides Marketing Manager Maximilian Roeser , "Our constructions have been precisely adapted to the specific material properties of Vallourec's Structural Hollow Sections, thus benefitting from features such as tight corner radii, straightness, excellent weldability and constant overall quality." Photo: Mack Rides, Waldkirch