Easy Procurement
Online sales for fast, easy & reliable procurement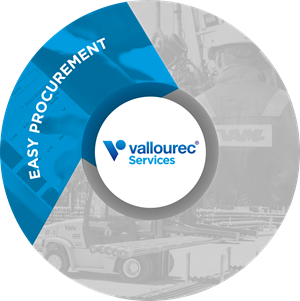 Additive Manufacturing, including:
WAAM (Wire Arc Additive Manufacturing) solutions

: Wire Arc Additive Manufacturing is the most promising technology for large metallic component used in the industry. It uses an electric arc controlled by a robotic arm to melt metal wire directly onto the surface of the base, layer by layer. With this manufacturing technology we can design, print and fully qualify metal parts to the highest standards of quality. It offers greater efficiency and shorter lead times. With the Vallourec

®

 Additive app, get instant 3D printing time estimate for metallic parts. Customers can upload their part's drawings and pictures on the application or use tubular shape configurator and get an instant calculation of their part's printing time.
Vallourec® Services: Sylvie Dubois-Decool, Services & New Businesses Director
"With Vallourec® Services, our aim is to support the customer throughout their use of our products, from procurement to final use, and even repurposing solutions for unused pipes. That's why we're reorganizing our service offer to help ensure the pipe's efficient performance from material selection through to final use. In this way, we can guarantee our customers peace of mind and full support along the entire value chain."
Sylvie Dubois-Decool
Services & New Businesses Director at Vallourec
Discover our Solutions
More information